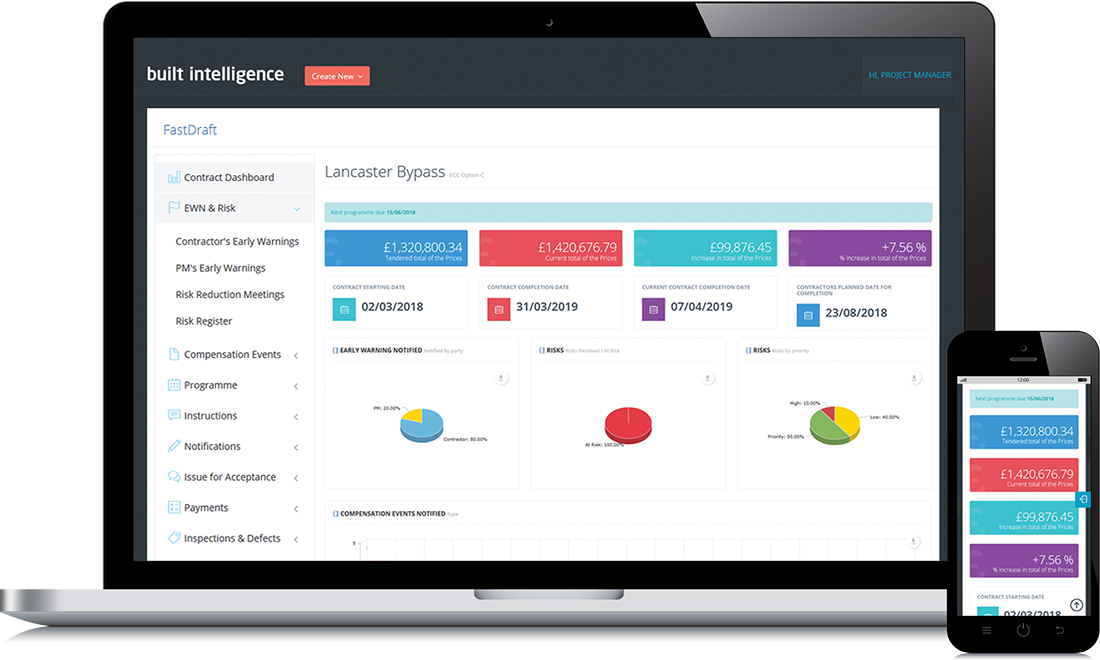 FastDraft: Contract Management System
FastDraft is an easy to use Construction Contract Management system for NEC3, NEC4, JCT, and FIDIC. It enables project teams to consistently draft and manage contract notices, monitor project performance and outcomes; increasing your teams productivity and compliance.

Our NEC model allows any of the NEC3 or NEC4 family of contracts to be administered, in terms of ECC, ECS, TSC, PSC contracts as well as the short versions of each contract. You can configure each project to include a review of bespoke clauses and contract data to tailor the system to your exact requirements.
Features
Support NEC3, NEC4, JCT, FIDIC contracts and bespoke forms/notices.
Simple, intuitive, out the box web based contract management tool.
Covering change control, payments, defects, certificates, notices and general communications.
Automated benchmarking of your performance against external KPIs.
An audit trail for all contract communications.
Consolidated contract management reporting which can be produced on demand.
Integrated system containing your workflow, guidance, reporting and contract forms.
Single communal platform for contract administration and project reporting. Roles and responsibilities controls to allow whole team to contribute.
Extensive library of documents, developed by industry practitioners.
Our flexible system architecture means additional contracts can be supported upon request and deployed in weeks rather than months.
Compatibility with mobiles and tablets means access to information when and where you need it without the need to install a dedicated App.
We can integrate with your existing software platforms via our API and authentication services, providing a seamless experience to end users.
Product tour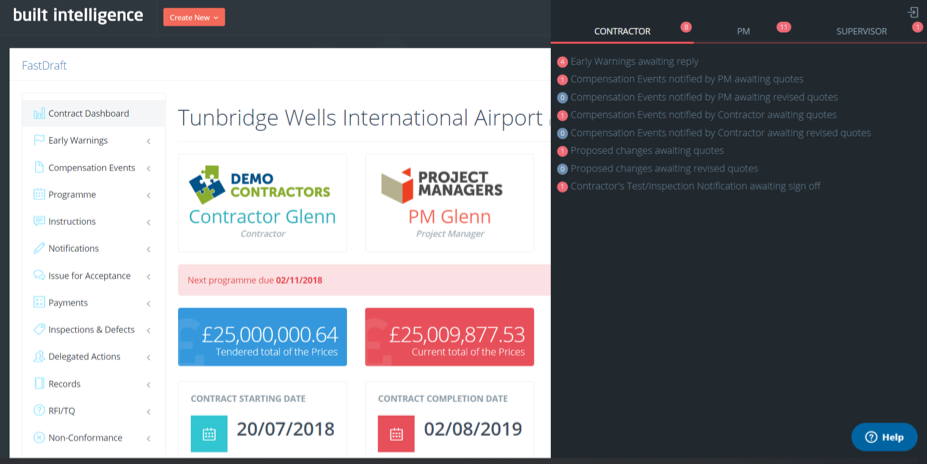 Dashboard and Action List
Intuitive dashboard demonstrating key project information, such as project value, agreed compensation events, change in planned Completion and other project milestones
Action points demonstrates clarity of where each party is at that moment in time in terms of contractual communications that have yet to be responded
Instant recognition as a summary of the contractual "health" of the project at any one point in time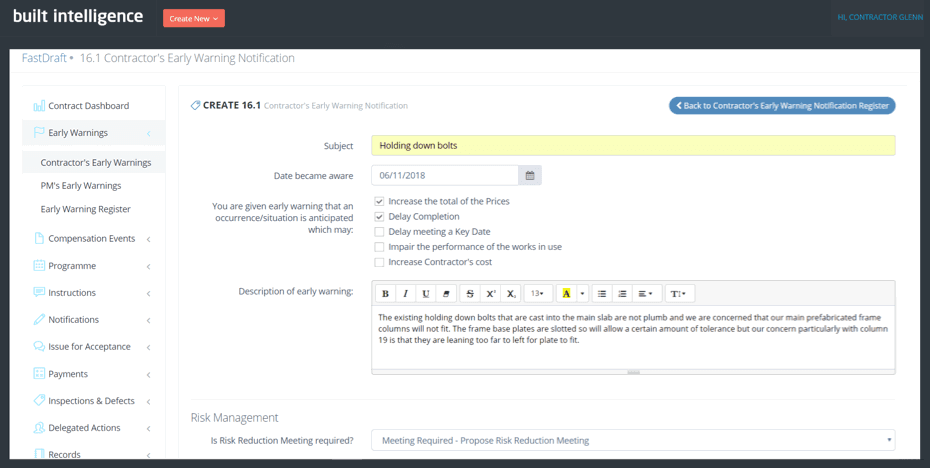 Encourages Contractual Compliance
Each form within the system is intuitive and ensures contractual compliance by forcing mandatory fields to be completed and correct contractual workflow & terminology is used
Early warning proforma for example prompts for consideration of a meeting to be held, when it should be held, where it should be held and who should attend
The system has similar equally intuitive and thorough forms for all of the other processes that the contract requires e.g. notifications, instructions
Includes specific forms for particular common contractual problem areas, such as quotation assumptions and delegation of powers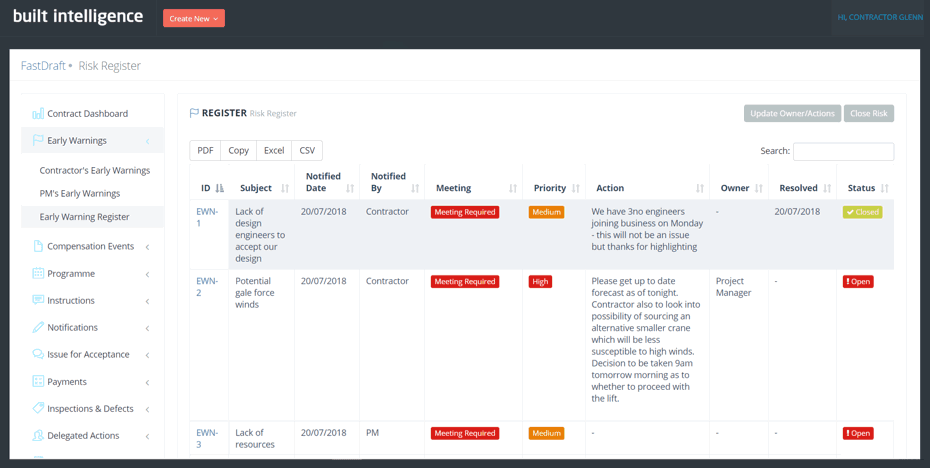 Early Warning Register
Early warning Register provides an instant audit trail of status of each early warning raised and who is the action owner to move the matter forward
Closed items can be filtered out, with open items forming the agenda for the next early warning meeting
Unique feature allows the Project Manager to update the register by directly clicking on the line item on the register to update the actions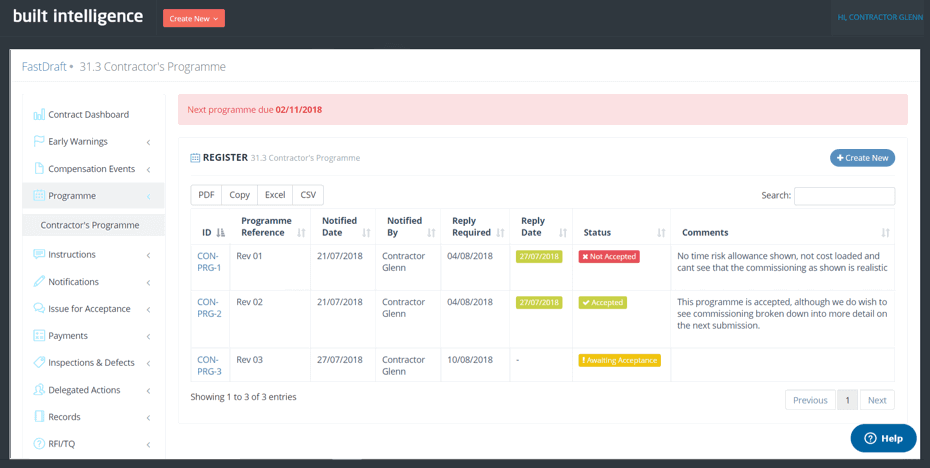 Register of Programmes Issued for Acceptance
Programme register provides a summary of the status of each programme issued for acceptance
If it has not been accepted it will identify the reasons why it has been rejected
Flags if client response to a programme is overdue
To find out how you can dramatically increase your teams productivity and compliance.